LUXURY MOBILE & PORTABLE BATHROOMS IN PERTH
Luxury mobile bathrooms to suit any space. For comfort, reliability and flexibility, you can trust 1300ENSUITES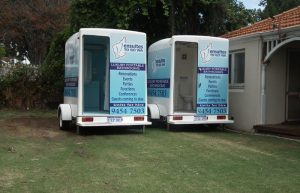 Luxury Portable Ensuite
Our luxury portable bathrooms are well appointed, clean, tidy and fully equipped and ready to go with everything you need.
Book Now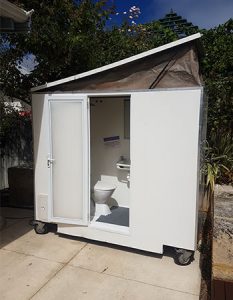 Compact Portable Ensuite
The Compact Portable Ensuite is a more compact version of the full-sized Luxury Portable Ensuite, with all the same luxury features.
Book Now
Twin Luxury Toilet Unit
Our twin luxury toilets are ideal for weddings and upscale outdoor events. This fully independent unit is stylish &modern.
Book Now
1300 ENSUITES PERTH WA
1300 Ensuites Perth have been supplying portable bathrooms for the past 15 years, not only for bathroom renovations in Perth but for weddings, parties and other events.
We have the largest fleet of LUXURY PORTABLE BATHROOMS for hire in W.A. You can expect prompt, friendly service and a smart, clean bathroom every time you hire from 1300 Ensuites Perth.
Other Services
Australia wide availability as part of 1300 ENSUITES Australia
Leaders in the Australian Mobile Bathroom Hire industry
Specialist in servicing the Disabled and clients in Wheel Chairs
We have experience in the insurance industry
Contact Us
1300ENSUITES Australia Pty Ltd
1300 367 848
0429 454 750
Maida Vale WA 6058, Australia
1300ENSUITES Australia
1300ENSUITES Leaders in the Australian Luxury Mobile Bathroom Hire Industry
1300 Ensuites are suppliers of quality bathroom hire equipment / units / ensuites / facilities to suit the most discerning customers and needs.
Ideal for any number of uses including renovations, marquee events and weddings, long term remote, rural and country building projects and where short term facilities are required – such as special events where the number of guests may exceed the capacity of the venue.
CALL 1300ENSUITES GENERAL ENQUIRIES